Nowadays, there are a lot of blog posts published on the internet. It is becoming increasingly harder for people to write unique content since there is so much of it available online.
In this situation, there is a need to know about the best plagiarism-checking tools so that all the blog posts that you publish are completely unique.
If you don't know which plagiarism checker you should use for your blog posts, don't worry. In this post, we are going to be looking at three awesome tools that you can use in 2023.
The first tool that we're going to be looking at is the plagiarism checker by Editpad. Editpad is basically an online platform that offers a variety of different online tools, such as a paraphraser, summarizer and grammar checker, etc. It also provides a plagiarism checker, which is what we will be looking at.
The plagiarism checker offered by Editpad.org is accurate and fairly rich when it comes to features. It is free to use, but it comes with some limitations that you will have to contend with if you opt to use it as a free member.
Let's take a look at some of the main features that this tool provides:
Multiple Languages Available
The plagiarism checker by Editpad provides multiple languages in order to cater to users from different countries. While the actual plagiarism-checking process is not reliant on a specific language, choosing your native one can be helpful since it converts the entire interface to that particular lingo.
This tool also provides you with an option to exclude a particular URL. You can use this function if you want to keep a particular website from being included in the plagiarism scan. For example, should you need to check for plagiarism in a blog post that is already published on a source, you can exclude the URL of that source to see if it is present anywhere else.
The tool also gives an option that you can use for uploading a file directly from your local storage. You can pick a file from your device and upload it directly rather than copying and pasting the text from it or typing it all out manually.
The plagiarism checker provides the results in the form of percentages. You can see what percentage of the text contains plagiarism and what percentage is unique. This can help you make sure whether or not your content meets uniqueness percentage requirements. For example, if your institute has given you the requirement of keeping your content plagiarism less than 5%, you can easily ensure it with the help of this online tool.
You can also download the plagiarism report to your local storage in case you have to attach it as evidence of your content's originality.
Now that we are done looking at the features of this tool, let's move on to see how accurately it works.
For the purpose of demonstrating this tool's accuracy, we have taken an excerpt from an existing blog post and mixed it with some unique content. The length of the copied content and the original content are both roughly the same.
Here is how the tool provided the results: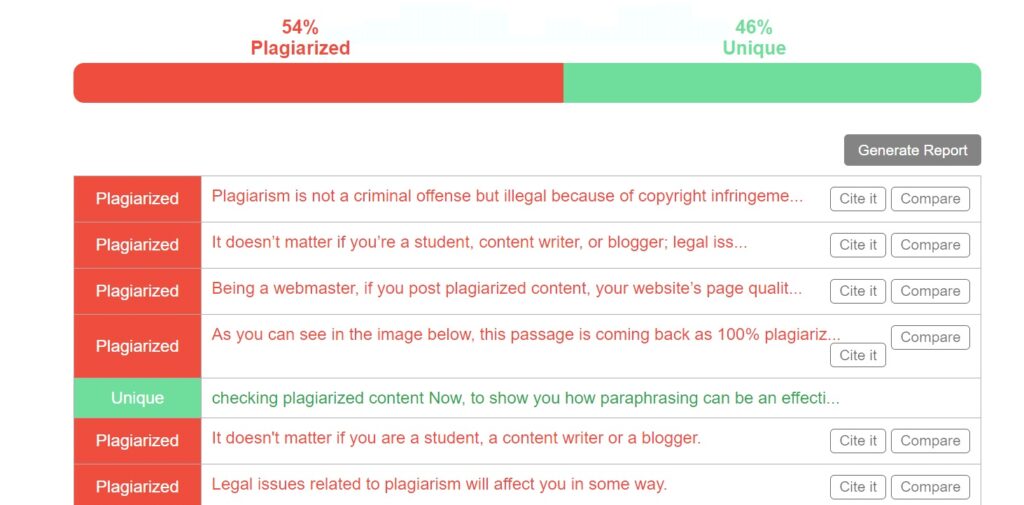 As you can see, the percentages shown by the tool are fairly accurate. Of course, there are some parts in there that it did not properly recognize to be copied or otherwise, but it was accurate for the most part.
Let's take a look at the pricing plans of this tool before moving on to the next one.
Pricing Plans
Editpad offers a range of different paid plans for the entire platform. There aren't any plans solely for the plagiarism checker itself. However, the limitations of the tool can be removed if you purchase the platform-wide plan: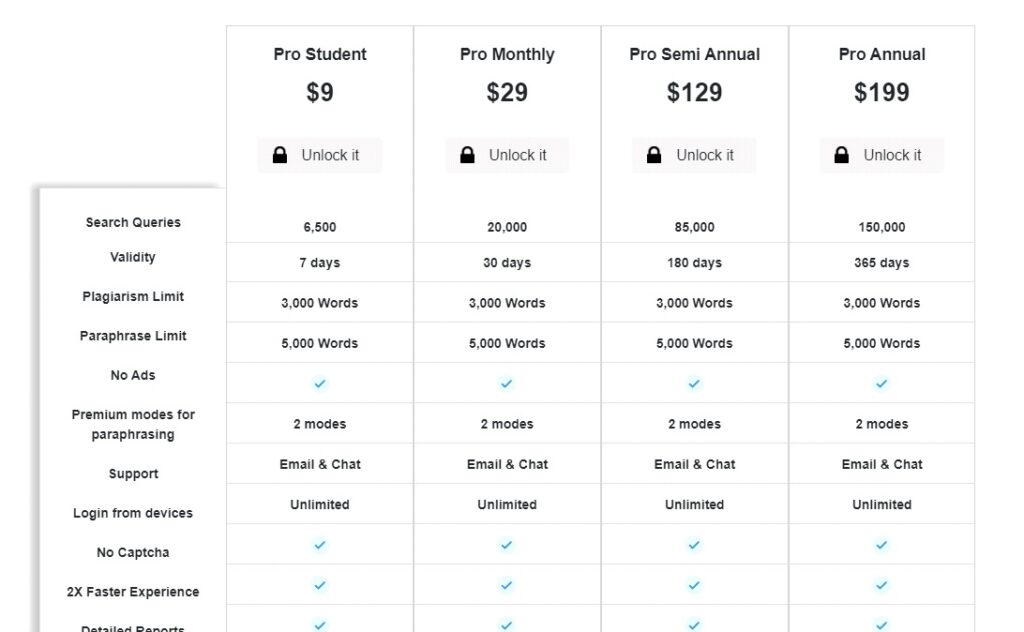 Unlike the one discussed above, Check-Plagiarism is mainly a plagiarism-checking tool, although it provides a range of other utilities as well.
Check-Plagiarism is free to use, and it comes with a host of useful features as well. As is the case with other free tools of its ilk, it has an ad-heavy page for free users. But there are paid plans available that you can purchase to get rid of those.
Here are some of the main features that you can enjoy with this tool:
This is, of course, one of the main reasons that we think Check-Plagiarism is a great tool to use for checking plagiarism in blog posts. Since it is free, it can be used even by those people who don't have the budget to spend on paid tools.
Check-Plagiarism allows you to quickly upload a file from your local storage to save time on importing content. This option supports DOCX, DOC, and TXT files. It could support other formats as well, but this is what we've found while using it.
This same option is available for the previous tool that we discussed above, and it is available in this one as well. The exclude URL feature can be helpful if you want to remove a particular website from being checked during the process.
Check-Plagiarism provides detailed data about the sources that your content matches with. You can see the title of the webpage, the URL, and the total similarity percentage.
As we did with the tool above, let's give Check-Plagiarism a try and see how well it works. And just as we did above, we will take a piece of content from a published blog and some content from this one.

The tool did well in finding out all the plagiarized parts in the content. All the copied content was underlined in red, and the unique content was left as it was.
Pricing Plans
Let's take a look at the pricing plans of this tool before moving on to the next one.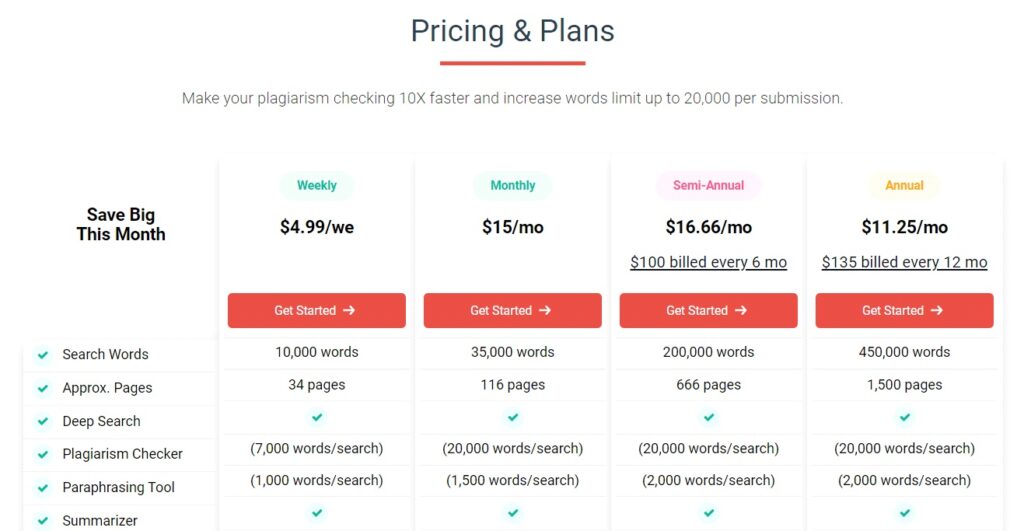 The last tool that we will be discussing in our list is the plagiarism checker by Rephrase. Like the others that we've discussed so far, this tool is free to access and use, and it comes with a number of different useful features.
As the name indicates, the main tool available on this platform is the rephraser. However, there are a number of other integrated tools available as well, one of which is the plagiarism checker.
For the most part, the plagiarism checker by Rephrase shares a lot of features with the other two we've mentioned. Let's take a look at some of its main features.
Right off the bat, the first thing that we noticed about this plagiarism checker was that it processed the text very quickly. Compared to the others, the whole process took some seconds to complete. This would lead one to naturally think that the process itself is not too accurate – since it finishes quickly – but that is not the case.
This is yet another perk that you can enjoy with the plagiarism checker by Rephrase. You can use the tool in three different languages, which include: English, Espanol, and Indonesian.
The plagiarism checker provides the results in the form of percentages so that you can easily visualize how much plagiarized (or otherwise) your content is.
Although the general working and functionality of this tool are fine and all, we couldn't help but notice that it did not provide a lot of other features that are provided by the others. For example, there is no feature to exclude URLs, and there is no feature to download reports or anything.
That being said, let's take a look at how well this tool works. We're going to take some unique content and mix it with some copied stuff to see if the tool detects it or not.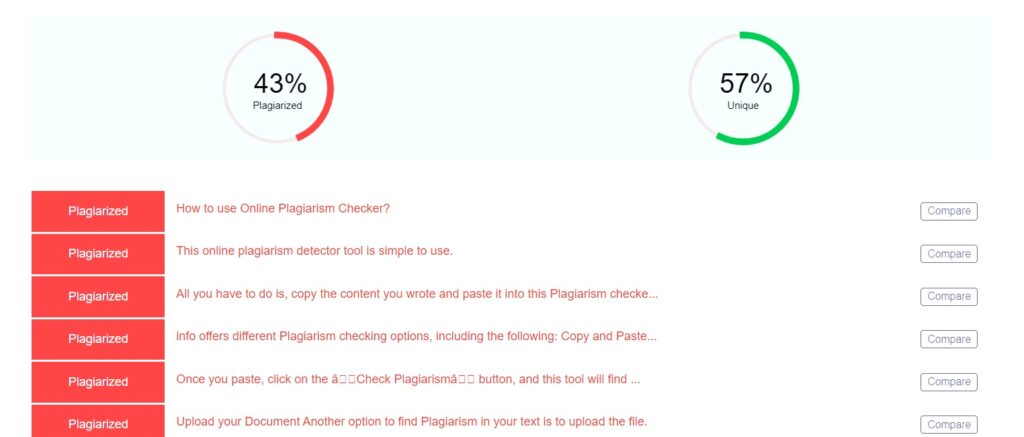 The tool did accurately detect the unique and plagiarized text, and it properly showed them in the form of percentages.
Pricing Plans
Like the others, this tool also has some limitations that can be removed by purchasing a paid plan. Here are the details of the latter: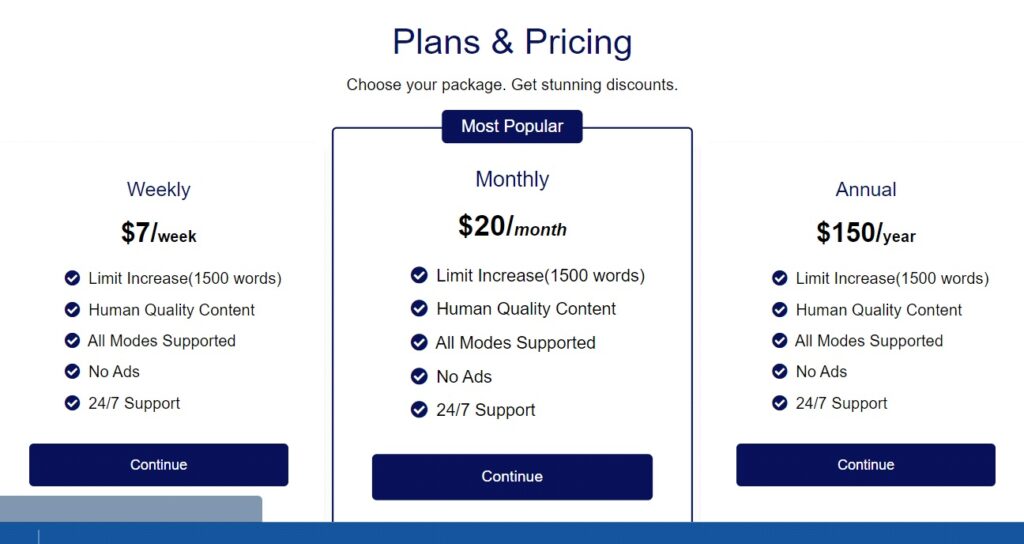 Conclusion
Checking for plagiarism in your blog post is a necessary step that you compulsorily have to take as part of your post-writing process. In the post above, we've talked about three tools that you can use for this purpose. Since we have described the features and availability of all the tools, you can easily make your pick as per your need and preference.